Jackie, (aka: Jacqueline Briggs Martin), is an accomplished children's book author. One book of hers you may have heard about, Snowflake Bentley, was the winner of the 1999 Caldecott Award.
We were visiting one day and I mentioned that I thought she needed a new website, and I offered to make it for her. She agreed to let me. I was thrilled to get started, but, knew I had a lot of hard work ahead of me.
In addition to streamlining and reorganizing the content flow, updating the design to work with mobile devices, we also decided to migrate almost 100 blog posts from an abandoned Blogspot account that she no longer could access as the owner/admin.
Yup, that meant that Market Street had to do all of the Blogspot content migration manually with copy/paste and review/edit/re-writing.
In the end though, this turned out to be one of my favorite website rescues / renovations.
She now has a new website acting as a modern showcase for her books. The website as a whole and the individual books themselves display attractively on both desktop and mobile devices.
It is easier for her fans to connect with her. It is easy for her to maintain the website, to blog about her upcoming books and other activities.
Unique features of this website
Latest Blog posts are prominently displayed.
Migrated nearly 100 Blogspot articles into her website.
Posts related to a book are tagged to easily find all relevant posts.
It has a modern & attractive book library.
Shows off her recent books on the home page.
Books can be easily edited.
Books can include text, graphics, audio and video.
Books have links to her favorite online and local bricks and mortar book sellers.
Has a link to a worldwide public library card catalog for borrowing from your local library.
It is easy for her fans to contact her without disclosing her personal email address.
Real superfans can also receive email whenever Jackie posts something new.
---
Below is a screenshot of the home page of her new website, followed by a screenshot of her old website's home page.

What do you think?
Screenshot – New website
NOTE: If you click on the image below it will open Jackie's website in new tab.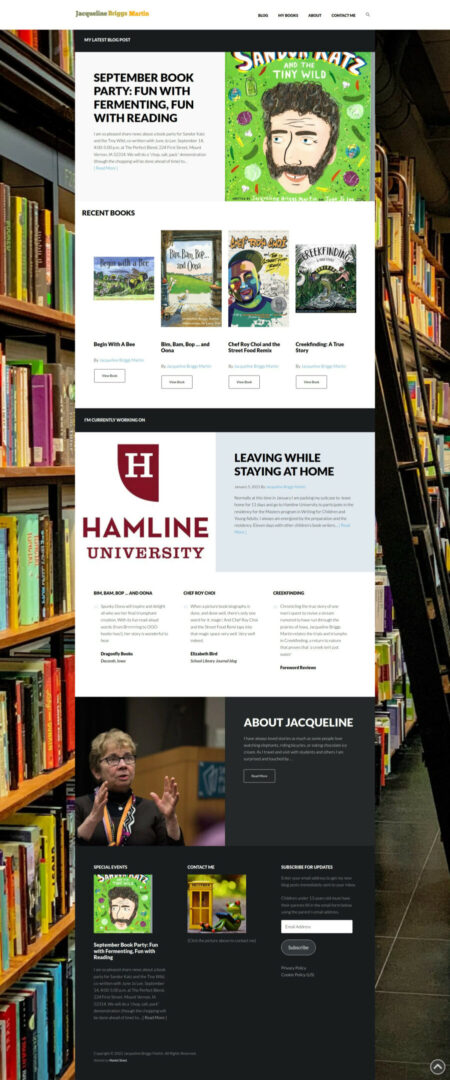 Screenshot – Old website
NOTE: If you click on the image it will display the image much larger and in a new tab.
---
You can see her entire website at JacquelineBriggsMartin.com.